There's nothing more festive than bundling on your woollies and heading to a traditional Christmas market, hunting for unique Christmas gifts, a cup of steaming mulled wine in hand. The original German markets of Cologne, Berlin and Dresden often take centre stage at this time of year, and as such, it can be easy to let other options pass you by. However, all over the UK and Europe a flurry of Christmas emporiums are making their mark, so here we've selected five of the best Christmas markets, at home and away, for the coming festive season.
Bath
Festive markets are omnipresent in the UK nowadays, and come Christmas, a new cluster of faux Alpine lodges pops up on every city corner. Of course there's Hyde Park's Winter Wonderland, which somehow seems to get more overcrowded  – and overpriced – each year, and unless you fancy spending your entire Christmas bonus on a German sausage and paper cup of glühwein, it's probably worth avoiding.
Dodge the masses and head to Bath Christmas markets instead. The city comes alive in the festive season with over 170 chalets adorning the streets surrounding the Roman baths. Almost 90% of market stalls are run by Bath locals, flogging homemade arts and crafts, artisan fayre and trinkets. There's even a glow in the dark mini golf and ice rink nearby, making this the perfect family day out.
The Bath Christmas markets are open until 11th December 2016, so be sure to catch them before they close up for the festive season.
Image: Visit Bath
Often misconstrued as a lacklustre business hub, the vibrant city of Zurich transforms into an enchanting winter wonderland at Christmas, boasting an extravagant array of festive markets. The city's most popular market, Christkindlimarkt, homes a glittering Christmas tree embellished with 7,000 Swarovski crystals, which towers above traditional wooden stalls laden with unique Christmas gifts, mulled wine and roasted almonds. Over at the Wienachtsdorf'- or 'Christmas Village' – which sits just in front of the spectacular Opera House, you'll be able to sample the very best Swiss delicacies on offer at over 100 stalls, including a 'Fondue Chalet'. After all, you've got to have something to work off on the ice rink, haven't you? After a day indulging in all Zurich has to offer, head back to the boutique Marktgasse Hotel, the ideal base for exploring Zurich's festivities, located in the heart of the Old Town, just a stone's throw from the city's best Christmas markets.
Visit the Christmas markets in Zurich right up until 23rd December.
Image: Zurich Tourism
Stockholm
Dating back five centuries, the Christmas market tradition is firmly cemented into Stockholm's history, with the first market opening in Stortorget Square over 500 years ago. Today, Stockholm's most popular Christmas markets are located in the Old Town, nearby the Royal Palace, with quaint red stalls stocking locally made gifts ranging from wooden arts and crafts to glassware and pottery. There are opportunities to sample fragrant and boozy glögg – Sweden's answer to mulled wine – and nibble on pepparkakor, thin ginger biscuits, and saffransbullar, saffron buns, as well as sausages made of reindeer meat, if that takes your fancy. We won't tell Rudolf.
Visit Stockholm's Christmas markets until 23rd December.
Image: Pixte
Budapest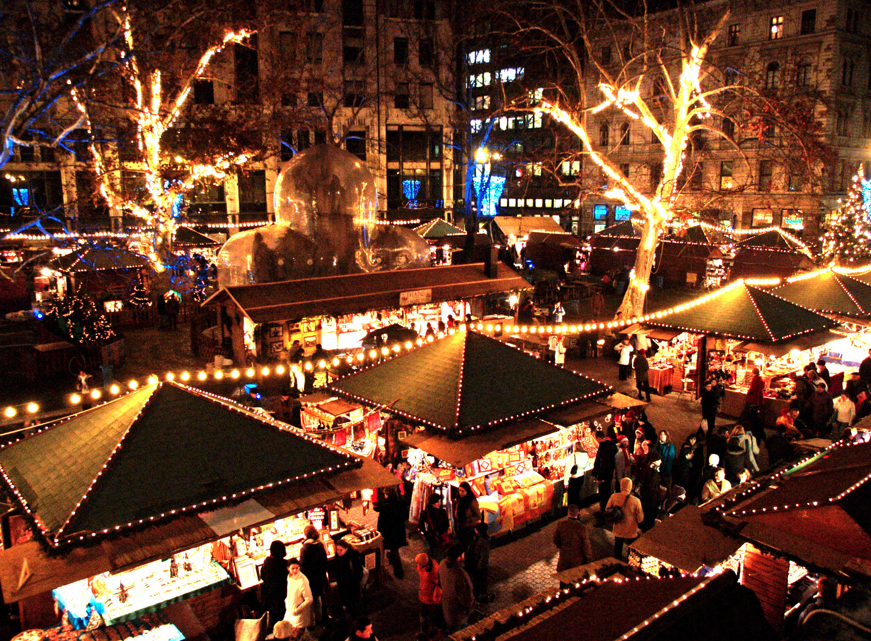 Dusted with snow, the markets at Vörösmarty Square are a scene taken straight from a Christmas card. Over 100 market stalls take to the square each Christmas, where visitors can feast on traditional Hungarian kürtőskalács, pastry chimney cakes dusted in sugar and cinnamon, whilst shopping for authentic handmade gifts that keep the old traditions and Hungarian trades alive. In the evenings, the festive 'light painting' show on the façade of Café Gerbeaud will transport you into the midst of a traditional Christmas story, accompanied by the sounds of local Christmas carollers.
Budapest's Christmas markets stay open into the New Year – up until 6th January.
Image: Budapest Christmas
While Spain, and more specifically, the Balearic Islands, are not what typically springs to mind when thinking of festive getaways, we'd ask you to think again about Palma. A typical Christmas market this is not, but a European city that leaves its Christmas lights up until well into the new year and celebrates the arrival of January with carnival-esque style street parties? Yes please. Explore the winding streets, ice rinks and market stalls, beautiful boutiques and wind-swept beaches lined with fairy light-clad palm trees before Christmas, or prolong the festive spirit by making your escape between 18 and 24 January, when the city hosts the Fiestas de Sant Sebastia in honour of its patron saint. Pretty plazas sparkle with ceilings of fairy lights and nightly activities take place, from the Correfoc, a parade of fire-wielding demons dancing through the streets, to huge communal barbecues in the streets and outdoor concerts on stages all over the city. What January Blues?
 Image: Fran Oliverax