As we near the end of the rollercoaster of the year that has been 2020, here at BIRD our dreams are full of far flung countries and over the pond adventures. And with so many newcomers to the scene, why not start planning your 2021 adventures now? A surefire way to beat these beginning of winter blues. With exciting new openings from the UK to China, we share with you our hottest news for the coming year.
Three Mile Beach, Cornwall (Spring 2021)
May 2021 will see the highly-anticipated launch of Three Mile Beach, a collection of 15 have-it-all beach houses on the northern Cornwall coast, just four miles from St. Ives. Created by Audley Travel founder, Craig Burkinshaw and his partner, Joanne Le Bon, Three Mile Beach is designed to evoke the carefree fun and nostalgia of childhood seaside holidays.
Hidden among sand dunes and coastal grasses and a heartbeat from far-reaching golden sands, Three Mile Beach redefines self-catering while offering comfort in the wilds. Catering to couples, families, groups and four-legged friends, each of the three and four-bedroom beach houses offers privacy and a haven of laid-back luxury. Think open-plan kitchen-lounge-diners, warming log burners and wrap-around terraces complete with sunken cedar hot tubs, barrel saunas, and barbecues. The well-equipped kitchens make feasting at home a breeze, while those who don't feel like cooking can book private chefs, order homemade oven dishes straight to their freezer or nip to the Three Mile Beach street food truck.
Beaverbrook Town House, London (Summer 2021)
Beaverbrook is partnering with Cadogan Estates, bringing the splendour of the award-winning Surrey country house hotel to the heart of Chelsea. The first Beaverbrook Town House will launch on the famous Sloane Street in Summer 2021 in partnership with Cadogan, following an extensive £25m restoration of two Georgian townhouses. The new 15,000 sq. ft. boutique hotel will feature 14 luxury suites all styled and named after celebrated and much-loved London theatres.
The new townhouse will also include a 60-cover contemporary Japanese restaurant and bar open to the public. Interior designer Nicola Harding, known for her work on the Garden House at Beaverbrook, is leading the project alongside Beaverbrook's creative director and renowned advertising guru, Sir Frank Lowe.
Hotel Castello di Reschio, Umbria, Italy (1st April 2021)
Reschio is a 3,700-acre ancient pastoral estate in the Umbrian hills being brought back to life by three generations of the Bolza family. A legacy project with the aim of protecting and restoring an extraordinary corner of Italy, the estate was bought by Count Antonio Bolza in 1994 and in the decades that followed, his architect son, Count Benedikt, and daughter-in-law, Donna Nencia Corsini, have set about transforming the crumbling farmhouses that dot the land into one-of-a-kind private homes. April 1st 2021 will see Reschio's thousand-year-old castle open its doors to the public as a meticulously restored and stylishly reimagined 36-room hotel, restaurant and spa.
Guests can choose to dine at Al Castello and Alle Scuderie, with much of the produce coming from the estate's own organic kitchen garden, olive groves, vineyards and beehives. The Bathhouse is a tranquil sanctuary home to a hammam, sauna, large ethereal plunge pool and two treatments rooms that fill the castle's dramatic vaulted stone cellar, atmospherically lit only by the shards of sunlight that come through the ancient arrow slits.
Bethlen Estates, Transylvania (Spring 2021)
Since 2007, the Bethlen family has been quietly acquiring tumbledown buildings in their ancestral village of Criş, with the aim of restoring them into homely havens of tranquility to attract a design-savvy traveller to Transylvania, while placing social purpose and cultural preservation at the heart of the project.
Spring 2021 will see Bethlen Estates Transylvania welcome guests to the first three immaculately restored houses, accommodating up to 20 guests. Visitors can choose from the four-bedroom Caretaker's House or two-bedroom Depner House – both available for exclusive use – or the four-bedroom Corner Barn available to rent by the room. Each building's façade has been restored traditionally to its former glory, while interiors offer a contemporary take on rural living. A carefully curated selection of experiences will allow guests to delve into Transylvania with its historic citadels, raw and untamed countryside and spectacular wildlife – often referred to as Europe's last true wilderness.
Nirjhara, Bali (January 2021)
January 2021 will see the launch of sustainable hideaway, Nirjhara, in Tabanan on Bali's southwest coast. Artfully designed around the spectacular cascading waterfall after which it is named, Nirjhara blends seamlessly into nature offering guests a secluded and environmentally conscious haven of relaxation, just a stone's throw from the island's volcanic sand beaches and popular towns of Canggu and Ubud.
25 suites and villas – including seven playful treehouse Canopy Suites – offer unrivalled waterfall, river, jungle or rice paddy views and have been constructed to make as little impact on the environment as possible. Guests are treated to a modern take on Bali's rich and eclectic gastronomic heritage at Ambu, where 95% of ingredients are sourced from neighbouring farms and trusted local suppliers. The Retreat at Nirjhara celebrates age-old healing practices and rituals, offering everything from sound healing and reiki, to massages, body scrubs and reflexology. Four treatment rooms centred around a tranquil reflection pool are complemented by two Finnish saunas, a fully-equipped fitness centre
From Spring 2021, Nirjhara will introduce Vela, a luxurious six-cabin yacht available for private charter that promises to take guests to some of the most remote corners of the Indonesian archipelago.
LUX* Chongzuo, China (January 2021)
The newest opening from LUX* Resorts & Hotels, LUX* Chongzuo, in China's Guangxi Zhuang region will be surrounded by lush greenery, mountainous rivers, famous karst formations, and just a ten minute drive from Vietnam. The new resort will feature 56 suites and villas with private terraces and plunge pools that open up to the spectacular natural surroundings.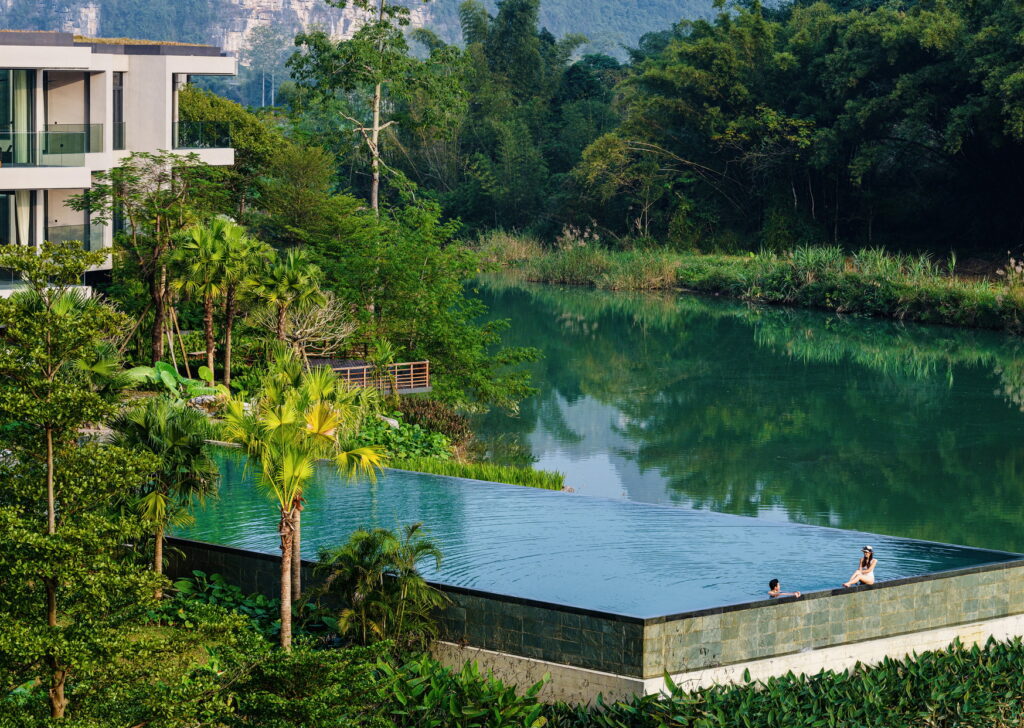 Other facilities will include an outdoor infinity pool, LUX* Me Spa and fitness centre, speciality restaurants and bars and an immersive Kids Club. The destination is known for its natural wonders including the Detian Waterfall, Asia's largest transnational waterfall, and the Nongguan Nature Reserve, home to the endangered white-headed langurs – both of which are just a 30 minute drive from the resort.
LUX* Grand Baie Resort & Residences, Mauritius (October 2021)
With 116 rooms, LUX* Grand Baie Resort & Residences will offer sophisticated beachside living for luxury travellers in the popular Grand Baie neighbourhood in the north of Mauritius. Beach Rouge – LUX* Resorts & Hotels' signature beach club concept – will sit on the water's edge and serve fresh, locally-sourced cuisine whilst Ai KISU (meaning 'flame' in Japanese) will offer best-in-class Asian cuisine with 'Warayaki' straw fire cooking at its heart.
The adults-only rooftop will be home to a 30m infinity pool, an inventive raw restaurant and bar called Bisou and an open-air wellness space and spinning studio – all with sunset views. Situated in the heart of the main kitchens will be a Food Lab, with a cookery school for guests: an experience where science, technology and innovation will merge. LUX* Me Wellbeing will offer an array of immersive thermal experiences alongside eight spacious treatment rooms, whilst the LUX* Me Fitness concept will curate wellbeing programmes for guests tailored to their body types and fitness goals. PLAY, the LUX* kids club will offer fun alongside learning, with the introduction of activities like kids Aquaponics and exploration in the homegrown vegetable garden.
LUX* Tea Horse Road, China – a developing trail along the ancient trade route
Deep in the mountainous northwest region of Yunnan, LUX* Tea Horse Road China has launched three additional retreats – LUX* Peach Valley, LUX* Sangushui and LUX* Daju Village – to complement the existing LUX* retreats in Lijiangand Benzilan along the 1,300-year old trade route. A fourth retreat – LUX* Stone Town – is expected to open by 1 December 2020, and two more hotels will join the series located in Dali and Pu'er from early 2021 to complete the 1,400-mile experience.
Set against the backdrop of majestic mountain peaks, lush valleys and deep gorges, each retreat is thoughtfully conceptualised by Kunming-based interior designer, Li Zhong, to encapsulate the natural surroundings. The four retreats, ranging from six to 18 rooms, are located in diverse settings: Jibeike where peach orchards cover the entire valley in pink blossoms during spring; Sangushui with its lush vegetation, waterfalls and natural springs; Daju Village which is known for its majestic views of the snow-capped Jade Dragon Snow Mountain and is the gateway to the Tiger Leaping Gorge, one of the world's deepest canyons; and Baoshan Stone Town perched on a rocky cliff with striking views of the terraced fields and winding golden river. The retreats are all within a three and a half hour drive from LUX* Tea Horse Road Lijiang, centrally located in the heart of the Old Town, a UNESCO World Heritage site with 800 years of history; or a six-hour road trip from LUX* Tea Horse Road Benzilan, overlooking the Golden Sand (Jinsha) River.